WOW! It is really hard to believe how fast 2005 has gone by! Actually I'm kind of glad to see it go, especially the last couple of months. I don't know about you, but I am really looking forward to 2006 and certainly looking at it as a fresh start! I've been really busy the last few months immersing myself in Flash to enhance my web design skills. It has become an ongoing project that will probably never end. I'm having more fun than I deserve with it.
Flash is much more than a simple animation program. It can be used as a design tool for entire webs. Of course you can create little animations with it, but I don't see how anyone could know everything that can be done with it. If you are interested, take a peek at my latest project, a calendar for my sister's website. You can view it at http://ringorecords.net. The original site design was done by someone else, but I have been maintaining and updating it for several months now, and more than enough changes have been implemented for me to comfortably call it my own. The calendar is certainly all mine, from the ground up! Enjoy folks!
File Attachments with Incredimail and Outlook Express...
My offering this month is another video you might want to share with your friends. Sometimes file attachments can be a confusing mess, especially when you want to save them. Hopefully, this little clip will make it easier for you!
If you haven't tried Incredimail yet, you really should. There is a free version and they are always running specials on the pay version. The FREE version ain't too shabby though, and there are built in protections from email cooties you won't get with Outlook Express. And you know what?? It's just plain MORE FUN!
Quick Tips
Let Windows XP try first ...
Before you install a lot of really bad software that came with your Christmas digital camera, let Windows XP try to recognize it first. All you need to do is connect the USB cable from your camera to your computer and wait a few seconds. If you see the Camera and Scanner Wizard appear, you don't need any extra software because Windows XP has everything you need to remove your photos from the camera to your hard drive.
Now if you camera comes with Photoshop Elements (version 3 or 4, the full version, not a trial), certainly go ahead and install it. Next to PaintShop Pro or the full blown Photoshop, it is a great program. Most of the software that comes with cameras and scanners is low end, to say the least, and is more likely to gum up your system and confuse you more than it will help. Odds are if you have worked with graphics before, you already have a favorite image manipulating program that will do all you need. I'm not saying don't install those odd little cheapie programs. I'm only suggesting you prepare yourself for disappointment, no support, and a quick uninstall out of sheer frustration.
F5 to Refresh ...
You probably know the F5 key will refresh your Desktop screen. It also works in regular windows. The next time you are surfing the Internet, click anywhere inside the main browser window, then press the F5 key on your keyboard. The web page will instantly refresh (or update). Give it a try in other program windows. It is refreshing to be able to Refresh a stale window or screen!
Quick Cleanup ...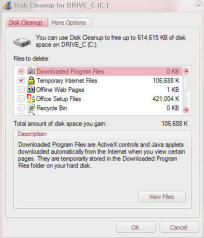 Click the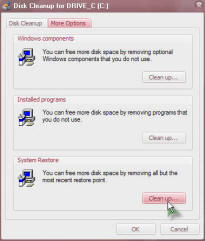 Start button, move your mouse pointer to All Programs, then up to Accessories. In the Accessories folder, click where it says System Tools, then move your mouse pointer to Disk Cleanup. It may take a while for your Disk Cleanup box to appear. Windows will check to see what is available to clean. Be patient. When the Disk Cleanup box appears, check what you want to clean. Everything listed here is very safe to let Windows remove, and you can free up some serious hard drive space. Just clearing out the Temporary Internet Files (you can do it right here) can speed up your computer noticeably.
But there's MORE in this little box! You can free up a LOT more space by giving your System Restore area a nice dusting. Click the More Options tab in the Disk Cleanup box. Then click the Clean up button to the right of System Restore. When you finally click the OK button at the bottom, your System Restore area will be cleared out except for the most recent restore point. I have seen more than 2 gig of hard drive space cleared up this way. If your computer is doing fine, there is no reason to keep weeks or even months of system restore files. It won't hurt to give your System Restore area a nice flush out once every month or so, depending on your comfort level. Remember, the last restore point will be saved, so you won't be totally without protection. Make sure your computer is relatively problem free though, before you do this.
Remember ... There are a lot more QuickTips each month in the Member area. AND I've gathered up all the videos and other goodies in the member area too, so they will be handy. All it takes is a one time donation to show you care, and the member area is all yours! For more information...
Here's wishing you all a most WONDERFUL 2006!

Warmest Regards,
Cindy O'Neal (aka Mrs. Wizard)
http://mrswizard.com
http://compuquicktips.com

Extra info:
Acrobat Reader tips: http://mrswizard.com/archives/acrobat_reader_tricks.html (for the older archived newsletters)
How to download: http://mrswizard.com/downloading.htm

Reader Support is what keeps CompuQuickTips FREE. Be sure and pass it along to your friends and family and when you share something new, remember to say, "I learned it from Mrs. Wizard!"

CompuQuickTips is sent to email subscribers only. If you feel you have received this message in error, or no longer want to receive your monthly issue, just hit REPLY to this email and let me know and I will be sure to remove you from the list. If someone has forwarded this email to you and you don't want to miss a single issue, hit the same REPLY button and let me know you want me to add you to the subscription list.