FREE Fonts...
One can never have too many fonts to play with. They can add all sorts of extra emotion to a greeting card or other document. Fancy fonts are great when you want to dress up a photo with something special too. Here are some free font sites I came across recently. Some have annoying popup advertising, but if you have the Google toolbar installed, or use Firefox, or have the latest Internet Explorer, this shouldn't be an issue. Just browse to your heart's content and enjoy the freebies. Make sure you do not download any bitmap fonts, no matter how neat they look. They can cause problems and instability with your Windows system. Stick with PostScript fonts, (TrueType, PostScript, Type 1 and OpenType).
www.1001fonts.com
www.abstractfonts.com
www.acidfonts.com
www.astigmatic.com
www.chank.com
www.coolarchive.com
www.larabiefonts.com
www.paratype.com
www.bvfonts.com
Installing new fonts ... It's as easy as opening your Fonts folder and dragging your new font file into it (click the saved font, and while holding down the left mouse button, drag it into the fonts folder). You will find your fonts folder in the Control Panel (click the Start button, then look for Control Panel to the right).
I'm sure every one of us has "lost" that darn Taskbar at one time or another in our computer lives. Feel free to pass this link along to any of your friends or relatives who would like a really clear explanation and solution to this problem. If you can master the Taskbar, you can master anything! This 6 minute video is my Christmas gift to you, dear readers. I will leave it up until January, 2006 for you to enjoy and share. After that, it will be moved to the Member area for permanent archiving. Other videos will be added to the member area as time goes by, and I'll do more reader videos too. Who knows? I might actually get to where I really know what I'm doing eventually! You haven't lived until you have faced a microphone with a big fat blank! It is so frustrating when you know exactly what you want to say, but nothing wants to come out!
Christmas Animations...
I got these from my favorite animation site, http://animationfactory.com. I thought you might like some small ones to use with your Christmas email. If you enjoy them, be sure to visit the site. It is a subscription service, but if you like using graphics and aren't artistically bent, this is well worth the cost! They didn't pay me to plug their service either :)
-------Ask Mrs. Wizard-------
From: Tom
Date: 11/22/05 09:08:15
To: mrswizard@mrswizard.com
Subject: Computer Question

When forwarding a previously forwarded message is it possible to drop the listing of all previous forwarders so as to just have the message forwarded?
Have a nice Thanksgiving,
Tom
Thanks Tom ...
Not only is it possible, it is preferable. You do it AFTER you hit the forward button... When the new email you are forwarding appears... place your cursor in front of the stuff you do NOT want to send and hit the Delete button until it is gone... If you are comfortable highlighting text, highlight the part you want to remove, then hit the Delete key.

If the email has previously been forwarded many times, it might be better to highlight only the part you want to forward, then press CTRL+ C to copy the information, then begin a NEW email, place the cursor in the main message area of this new email (so you see a blinking cursor), then press CTRL+V to page ONLY the good stuff... This way you don't even have to worry about deleting previous email addresses, because it will be a fresh one from you.

Also... remember to use BCC (blind carbon copy) instead of CC... This way you will not be sharing your email list with everyone and their brothers!

Warmest Regards,
Cindy
QuickTips ...
Change your Home Page with a Click and a Drag ...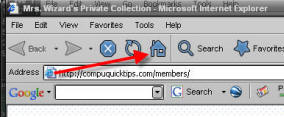 If you use Internet Explorer as your default browser, you can change your home page (the first page you see every time you open your browser) with a simple click and a drag.

Notice in the address bar (at the top of the main window), there is a little Internet Explorer icon to the left of all addresses, no matter where you are on the Internet. You can grab this little icon and drag it and drop it right onto the Home Page icon that is at the top of the main toolbar on the Internet Explorer browser window. Presto! Swappo! Instant Chango! You will see a little box asking if you want to change your home page. Answer Yes and you are finished.
Working with zipped folders ...
A zipped folder is pretty much like any other ordinary folder. Double click it to see what is inside. If you double click one of the files you find inside though, Windows will open a read-only copy of the file. You can view it but not edit it. To make changes once it is opened, click the word File at the top of the opened window, then save as and save a copy of the file somewhere else. Another way to unzip a file and make it editable is to drag it out of the zipped folder to any other location. This will place a nice fresh (uncompressed) copy wherever you drag it and put it entirely at your mercy. The original (zipped) file will be left intact, safe in the zipped folder.
Zipping files and folders ...

In Windows XP, you don't need a shareware program like Winzip to create or open Zip files or folders. It is built right in. To create a new compressed (zipped) folder, right click any empty area of your desktop and choose new, then Compressed Zipped Folder. Type a name for your folder (make sure y

ou leave .zip at the end of the file name), then press the Enter key on your keyboard.
Now, each time you drag a file or folder into the archive's icon (or into its open window), Windows will automatically put a compressed copy of it inside.
Members (of course) have access to several years of QuickTips in the member area, not to mention several other goodies and more to be added as time goes by. It costs $20 to join and you will receive a user id and password to enter the special area. I also send the latest CD Essentials as a special Thank You gift to people who care enough to join. The new CD Essentials has over 400 Mb of Tiny Treasures and Gems I downloaded (so you won't have to) and contains LOTS of graphics you can use for wallpaper. As your CD gets older, there are links to the websites where you can make sure you have the latest version. The new CD is organized completely differently. New members who joined recently and received the older version will receive the new one in addition to the one you have already received.

Warmest Regards,
Cindy O'Neal (aka Mrs. Wizard)
http://mrswizard.com
http://compuquicktips.com

Extra info:
Acrobat Reader tips: http://mrswizard.com/archives/acrobat_reader_tricks.html (for the older archived newsletters)
How to download: http://mrswizard.com/downloading.htm

Reader Support is what keeps CompuQuickTips FREE. Be sure and pass it along to your friends and family and when you share something new, remember to say, "I learned it from Mrs. Wizard!"

CompuQuickTips is sent to email subscribers only. If you feel you have received this message in error, or no longer want to receive your monthly issue, just hit REPLY to this email and let me know and I will be sure to remove you from the list. If someone has forwarded this email to you and you don't want to miss a single issue, hit the same REPLY button and let me know you want me to add you to the subscription list.